Houston Texans Morning Huddle–Draft Week is Here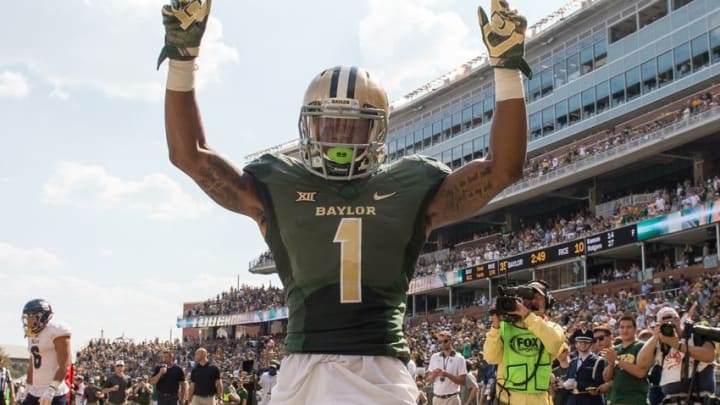 Sep 26, 2015; Waco, TX, USA; Baylor Bears wide receiver Corey Coleman (1) celebrates his touchdown against the Rice Owls during the second quarter at McLane Stadium. Mandatory Credit: Jerome Miron-USA TODAY Sports /
Here are your Houston Texans stories to kick off your work week:
Texans drafting Will Fuller by Jack Windham, Inquistr
"NFL rumors have been swirling around Will Fuller. As one of the best wide receivers coming out of the college ranks, several teams are said to be interested in selecting him in this year's NFL Draft. According to CBS Sports, one of the teams that are interested in Fuller will be the Houston Texans. They are looking to bring in someone who can go with DeAndre Hopkins. The two could possibly form of the one of the best receiving tandems in the league. That would also provide newly-acquired quarterback Brock Osweiler another weapon."
There certainly have been a lot of folks who have pegged a receiver to the Texans in the first round. As far as which one there has been some disagreement. Fuller has the physical tools to be the top receiver taken, but the issue for him is drops. I imagine there could be a run on receivers in the first round, and if the Texans really want a receiver in the first they might be forced to take him.
More from Toro Times
Longhorns Drafted into NFL: Houston Texans by Joe Harrington, Austin American Statesman
"Best pick: Kasey Studdard, offensive line, 2007Studdard's pro career isn't flush with accolades, but he did start 14 games in 2009, which is more than of the other two Houston Texans Longhorn draft picks. At Texas from 2002-2006, Studdard was the leader of the Longhorns' offensive line, playing center and being a All-Big 12 selection in 2006. His father, Dave Studdard, was an offensive tackle for the Denver Broncos who also played at Texas. Studdard was the 183rd pick by Houston in 2007."
Of only three players taken from nearby UT-Austin, a decent offensive lineman gets the nod as the best. Hassan Ridgeway could be on the Texans radar this year.
Prospect of the Day: Corey Coleman, Baylor by John Harris, Houstontexans.com
"Since Art Briles took over at Baylor in 2008, the Bears have constructed a sort of Wide Receiver U. Terrance Williams, Kendall Wright and Tevin Reese all registered 3,000 or more career receiving yards. Antwan Goodley was an outstanding threat at receiver in 2013 and 2014. But, Coleman might be the one of the entire group that…well, he might be THE one in this group."
It's no secret the Texans have been interested. Read our write up on Coleman here.