Houston Texans draft series: Wide receiver Corey Coleman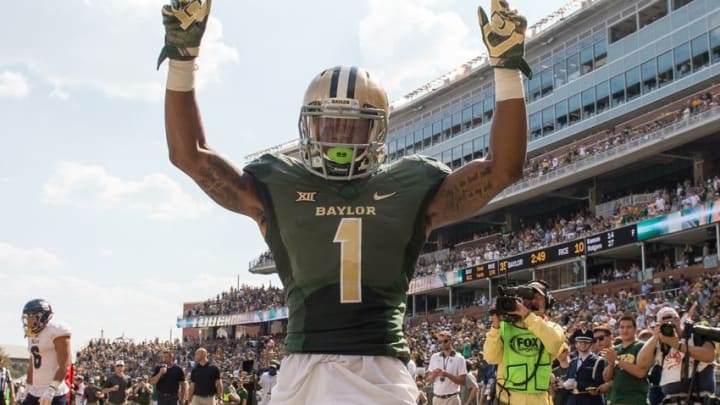 Sep 26, 2015; Waco, TX, USA; Baylor Bears wide receiver Corey Coleman (1) celebrates his touchdown against the Rice Owls during the second quarter at McLane Stadium. Mandatory Credit: Jerome Miron-USA TODAY Sports /
We are down to a few days before the draft, and our look at some of the potential options the Houston Texans have at the No. 22 pick comes to wide receiver Corey Coleman from Baylor.
More from Toro Times
With the addition of Brock Osweiler at quarterback and the monster season DeAndre Hopkins in 2015, the Texans are feeling really good about their passing attack. But while Hopkins became one of the elite wideouts in the NFL, the rest of Houston's wide receiving corps were disappointing for the most part. Cecil Shorts III was consistent on the field but hampered by some injuries, Nate Washington dropped several crucial passes throughout the season, and Jaelen Strong is still raw at developing from the college game to the pro game.
So many are pointing that with such a deep wide receiver class this year, the Texans might go get one that can stretch the field and take some of the coverage off of Hopkins. And one of the top WRs being thrown around is Corey Coleman
Vitals
Height: 5-foot-11
Weight: 194 pounds
40-time: 4.37 seconds
What he does best
Coleman was the one of the elite wide receivers in college football last season, catching 74 passes for 1,363 yards and 20 touchdowns for Baylor in 2015, and that's with a team with quarterback issues late in the season, which slowed his numbers down. His speed is top-notch and is a threat to score when he touches the ball. He also has a great personal story, rising from a rough neighborhood in Dallas while his father is in jail for drug distribution.
But on the other side of the coin, Coleman dominated against weak Big 12 defenses at Baylor, and wasn't as effective against tougher competition (he had only three catches for 51 yards against Oklahoma this past season). However, without Coleman, the Bears would be a totally different team.
Coleman also is a great route-runner and has tremendous leaping ability to get the ball over opposing defenders and make some great highlights.
Weaknesses
Coleman has all the physical features that a wide receiver needs except for maybe one thing: hands. Not to say that Corey can't catch the ball, but he has his share of dropped passes (10 last season), mostly coming from a lack of concentration in some instances.
There's also some doubts on whether Coleman is super aggressive in coming to the ball to prevent defensive backs from either picking the ball off or knocking it down. But that can be worked on in training camp and practices.
How he fits with the Texans
Coleman would be a starter if he's drafted, unless Jaelen Strong gets his legal issues worked out and has a great preseason. He'll be at least fourth on the depth chart with Hopkins and Shorts as the top two receivers. But if he doesn't crack the top of the depth chart, I can see him returning kick and/or punts, an area that the Texans are really desperate for some help.
While putting Coleman opposite Hopkins should give Osweiler a big smile, Bill O'Brien wants to establish the tight end more in the Texan offense. But in a three-wideout set with Coleman in the slot, defenses will now have to play for the deep ball, which will open up the flat and the middle of the field. But Coleman is not going to be a decoy for long. He'll test safeties by going deep and using his quickness to break away from defenders.
Is he worth the pick?
Most mock drafts in the last two weeks have Houston taking either Coleman or Notre Dame WR Will Fuller, but they are leaning towards Coleman. His size and athleticism are irresistible to not pass up.
Our resident draftnik Erik Lambert also has Coleman going at No. 22, and mentions his big-play capabilities in his reason.
""Corey Coleman showed he was that kind of player at Baylor.  He has the speed create separation down the field and enough agility to make defenders miss when he catches it on a screen or even as a return man.  If he can perfect his route running, he'll be a nightmare.""