Believe it or not, the Texans are better than their record would Indicate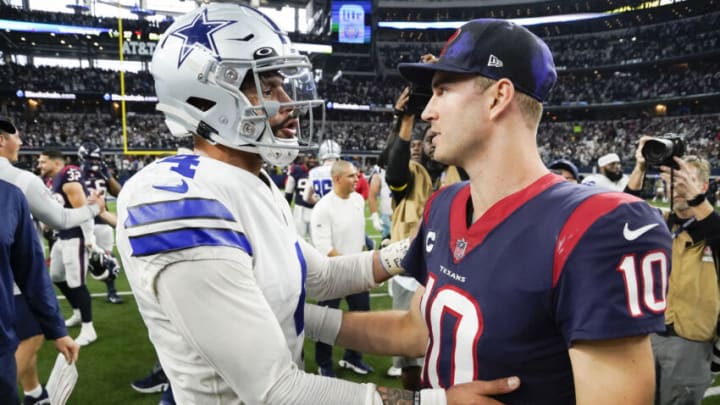 Dec 11, 2022; Arlington, Texas, USA; Dallas Cowboys quarterback Dak Prescott (4) with Houston Texans quarterback Davis Mills (10) following a game at AT&T Stadium. Mandatory Credit: Raymond Carlin III-USA TODAY Sports /
They say that two things can be true at once. The Texans are objectively a bad football team, as their record would show at 1-11-1. With that being said, they also show flashes of being a competent football team and the ability to compete with even some of the better teams in the NFL as they showed on Sunday against Dallas where they went into the game as 17 (!!!) point underdogs.
Not only did Houston not lose by 17+, but most people would say the Texans should've came away with a win. They controlled the game for most of the time, but ultimately fell short after Dallas scored with about 30 seconds left in the game. If it wasn't for Dallas stopping a Jeff Driskel scramble at the goal line, the Texans most likely would've beaten their Inter-state rival and current betting favorite to win the Super Bowl.
The Texans 2 QB rotation they had going on actually produced, as Davis Mills and Jeff Driskel combined to go 20-27 for 213 yards, 1 TD and an interception (It was on a hail mary on the last play of the game, though). But this performance leaves me to wonder how different this season would've been if the Texans had even competent QB play for most of their games this season.
I am by no stretch of the imagination saying Houston would be a playoff team. I'm not even saying that they would be at or above .500. But if you go back and look at some of the games that the Texans have played, it makes you wonder if (insert average QB here) had somehow been a Texan if they could've won a few more of those games that they lost earlier in the season.
For this hypothetical situation, I'll say that magically Derek Carr is now the QB for the Texans. I think most would agree that he is an average (at time's slightly above average) QB.
The Texans have 6 games this season where they've lost by less than 8 points and they also have the tie Week 1 against Indianapolis. If Derek Carr was the Texans QB you don't think Houston would've had a few more wins? And some of those big losses that the Texans have are because Davis Mills/Kyle Allen couldn't move the ball and/or not turn it over. Not every game has been all on the QB play, but it's tough to argue that it hasn't been a massive issue this year (along with Run Defense, but that's for another day).
Nov 26, 2022; Tuscaloosa, Alabama, USA; Alabama quarterback Bryce Young (9) warms up before the Iron Bowl game with Auburn at Bryant-Denny Stadium. Mandatory Credit: Gary Cosby Jr.-USA TODAY Sports /
Next year the odds are that Bryce Young will be a Texan, and if the Texans can surround him with *something*, then they should have more than 1 win 14 games into the season. He is absolutely electric and can transform this team into a very fun team alongside young offensive weapons in Dameon Pierce and Nico Collins. Hopefully Houston picks up some WR help in Free Agency/Draft to help out their next QB.
This team is not as bad as their record looks this season, just trust me.