Houston Texans news: Dameon Pierce walking boot, Rodgers' accidental TD, more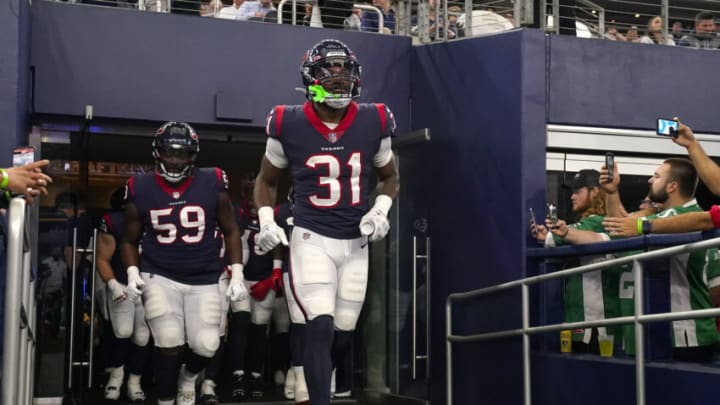 Dameon Pierce #31 of the Houston Texans takes to the field prior to a game against the Dallas Cowboys (Photo by Sam Hodde/Getty Images) /
The Houston Texans are 1-11-1 thanks to a late collapse that included four plays from just a few yards from the goalline without being able to score a touchdown. A big reason why Pep Hamilton's offense couldn't score what would have been the winning touchdown was that Dameon Pierce was out of the game due to an injury. Now it appears he might be out for some time.
According to the Texans Wire, Pierce left the stadium in a walking boot. That could mean he will miss at least next week's game. With just four weeks to go in a lost season, there's reason to believe it could mean the rookie running back's season is over.
Pierce injured his ankle early in the fourth quarter. At the time the Houston Texans claimed he was questionable. He did actually come back in for a few plays but the ankle was apparently bad enough that he couldn't come back for big drive. Rex Burkhead couldn't get the job done in his wake.
Head coach Lovie Smith made it clear that if the 4th round pick had been able to go, he would have been in the game.
Other Houston Texans News
Jeff Driskel might have only been activated just before the Houston Texans took on the Dallas Cowboys but it was clear Hamilton had a ton of plays drawn up for the speedy quarterback. One of those plays resulted in a touchdown to Amari Rodgers that the wide receiver says wasn't even supposed to come to him.
"I just ran a wheel route," Rodgers told reporters after the game. "I was really just supposed to clear out the safety. It wasn't supposed to come to me. But I was playing fast and was ready for the ball. He threw it to me, and I just made the play."
Other NFL News
If there is a bright side to the Houston Texans last-second loss on Sunday, it's that they continued to be in the driver's seat for the first pick in the draft.
The Jacksonville Jaguars were big time contenders for that spot until a couple of weeks ago. They've won two in a row and are now 5-8. Unless the Texans go on a four game winning streak, that seems to have knocked the Jags out of the first-pick race.
Meanwhile, the Denver Broncos continue to be the most likely competition for the #1 pick. They lost again on Sunday to the Kansas City Chiefs and are now 3-10. Still, it appears the Houston Texans are on the fast track to Bryce Young.