Houston Texans: Keke Coutee has been cut, no longer on 53-man roster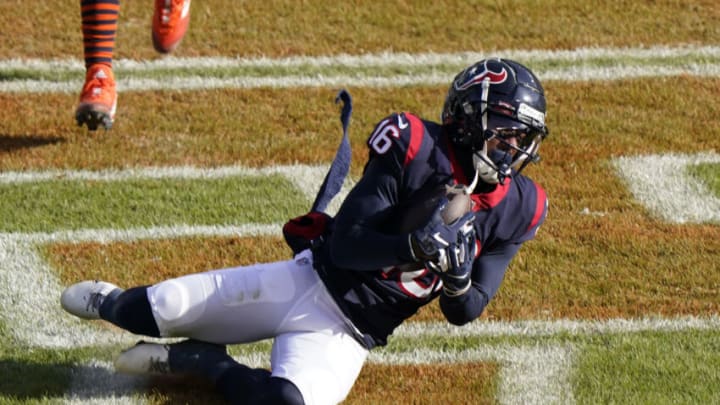 Mandatory Credit: Mike Dinovo-USA TODAY Sports /
A decision was made by the Houston Texans about a wide receiver who never got on pace with the franchise.
The Houston Texans have released Keke Coutee, as the wide receiver didn't get on track with the team, and it could be the best decision for both parties moving forward.
It is being reported that Houston Texans wide receiver Coutee will not be making the 53-man roster as he's been cut by the only franchise he's played for. Coutee has so much potential to be a solid player in the NFL, and at times fans of the Houston Texans have seen it.
NFL reporter Aaron Wilson tweeted about the cut of Coutee and others by the Houston Texans as they are building their initial 53-man roster on Tuesday:
Always wanting to see Coutee succeed with the Houston Texans, and knowing that he's not on the roster hurts a little, but football is a business first. This decision is understandable because with a new general manager he is going to build the team that he sees fit to eventually compete at a high level, and he might want his own players to achieve that feat.
Coutee never took the next step when he had chances, and though it seemed like he was always on the bad side of former general manager/head coach Bill O'Brien, Coutee still had the athletic ability to have some success.
Being inactive, not playing when active and being injured too often didn't allow Coutee to gain any momentum in his three-year career with the Houston Texans.
In Coutee's NFL debut in 2018, a Week 3 game against the Indianapolis Colts, he caught 11 passes on 15 targets for 109 yards, but zero touchdowns.
In '18, Coutee didn't play past Week 11, but when he returned from injury in the playoffs, he was more than ready to nearly repeat his performance vs. the Colts, but he did one thing better, he scored a touchdown against Indy.
Houston Texans: Keke Coutee will always have his playoff debut
In that playoff game against the same Colts, Coutee caught 11 of 14 targets for 110 yards and one touchdown. Though the Texans lost the playoff game 21-7 there was a feeling maybe, just maybe that was Coutee's breakout party and the '19 season was going to be special.
It wasn't a special season as Coutee didn't have any 100-yard games, and he finished the season with 22 receptions on 36 targets for 254 yards and no touchdowns. It was a season that again saw him be on the inactive list, and injuries be the stumbling block. He also missed both playoff games.
Last season (2020) Coutee played one game in the first nine weeks, and that was in Week 2. He was inactive for six of those games, and didn't play in one of them. Coutee had three touchdown receptions in a five-game span in the '20 season, but it still wasn't enough to guarantee anything in '21. In '20 he finished with 33 receptions on 40 targets for 400 yards.
This preseason was going to be a long climb up the ladder and Coutee never got back to the top or near it. He didn't produce well enough for the new leaders of the Houston Texans to believe he is better than he shown. Maybe he can either find a new team for a fresh start, or possibly gain a practice squad spot with the Texans to keep improving to earn another chance.
It comes down to one fact, the Texans have added new wide receivers for better competition, and the Texans found players they believed are better than Coutee. Some of those receivers were rookie Nico Collins and veteran Chris Conley.
All-in-all it has been a roller coaster ride wanting to see Coutee succeed long-term with the Texans. Now for any success, both parties need to move on and work on making themselves better than what they were before.