Deshaun Watson is right — the new NFL jersey swap rule is "silly"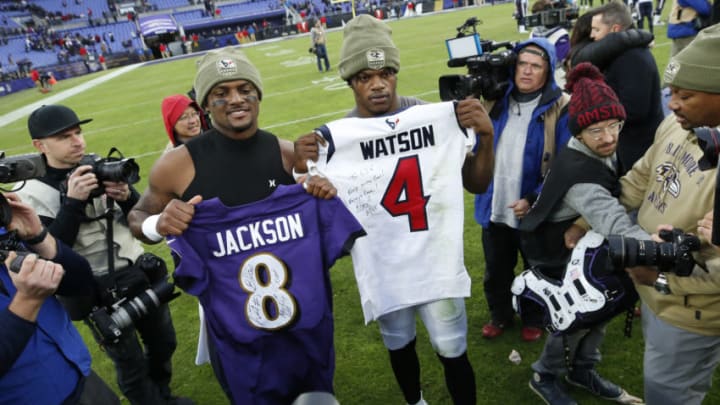 BALTIMORE, MARYLAND - NOVEMBER 17: Quarterback Lamar Jackson #8 of the Baltimore Ravens exchange jerseys with quarterback Deshaun Watson #4 of the Houston Texans after the Baltimore Ravens 41-7 win over the Houston Texans at M&T Bank Stadium on November 17, 2019 in Baltimore, Maryland. (Photo by Todd Olszewski/Getty Images) /
The NFL's new rules forbidding close-proximity postgame interactions and jersey swaps don't make any sense given the nature of the sport.
As the NFL and the rest of the sports world — and the world in general for that matter — continues to wrestle with coronavirus and a global pandemic, it's clear that some decisions and strategies being implemented make a whole lot more sense than others.
The NBA's decision to resume their season in a "bubble?" Makes a lot of sense.
The NHL's decision to resume their season in just two cities, Edmonton and Toronto, both of which are located in Canada — where the virus seems much more under control? Makes a lot of sense.
The NFL's decision to ban all postgame interactions between players that take place with less than six feet of distance between them?
That doesn't make a lick of sense at all.
In theory, six feet should make sense since that's the magic number oft-repeated during these crazy times when it comes to maintaining proper social distancing guidelines around fellow human beings.
But put to practice, how does this rule make any sense at all given what we know about football?
For the better part of nearly three hours, dozens of players will be in close proximity to one another … breathing, sweating, spitting, talking, coughing, wheezing, bleeding, all of it. That's what professional football is all about, anyway — it can't be played without tackling, stiff-arming, huddling up, etc.
So, in what world does it make sense to allow players all of this sustained close-quarter contact for all of four quarters — then suddenly forbid it immediately afterward during postgame interactions that usually don't last more than a few seconds here and there?
Houston Texans quarterback Deshaun Watson, for one, sees the fallacy in this argument … and he wasn't shy about expressing his true thoughts and feelings regarding it online via Twitter either:
https://twitter.com/deshaunwatson/status/1281268448937443328
Look, I'm all for player/coach/trainer/staffer safety when it comes to the NFL. The league certainly needs to implement as many rule changes and policy adjustments as possible to make this upcoming season as safe and non-contagious for everyone as possible.
But this particular decision? Deshaun's right: It is damn silly, bro.