Houston Texans NFL Draft grades 2019: Cullen Gillaspia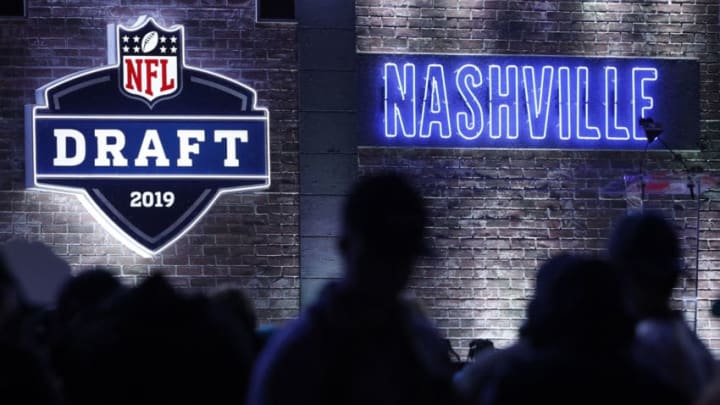 NASHVILLE, TN - APRIL 25: General view during the first round of the NFL Draft on April 25, 2019 in Nashville, Tennessee. (Photo by Joe Robbins/Getty Images) /
The Houston Texans used the 220th pick in the 2019 NFL Draft on a running back who could use his special team abilities to make the roster.
Cullen Gillaspia is a running back out of Texas A&M and has a tough road ahead of him to find his spot on the roster of the Texans, though he does have talent in various aspects of the game to make his mark this offseason.
Gillaspia was the Texans' seventh round pick and he joins a running back roster that is looking for a solid third option behind Lamar Miller and D'Onta Foreman, who are the top two running backs currently on the roster.
Also the Texans passed on running back Kerrith Whyte, Jr. with this pick, who also has very nice speed. He was drafted two picks later by the Chicago Bears, and is a player who could produce in the special teams with his Pro Day 40-yard dash time of 4.37, meaning Gillaspia might become compared to Whyte Jr. this offseason by fans of the Texans.
More from Houston Texans Draft
One way Gillaspia could make the roster besides playing on offense for the Texans is to be used on special teams, and Lance Zierlein of NFL.com wrote this of Gillaspia in his draft profile of the running back:
""His fearless playing style and soft hands are both positive traits in his conversion from linebacker to fullback, but he may be too far away from a true positional fit to make a team as a special teams demon.""
Though Gillaspia didn't return any punts or kickoffs in 2018, he did have three kickoff returns in '17, though he averaged only nine years per return. That said, he still possesses the speed to work his way to being a positive for the special teams, which the Texans could use. At his Pro Day, Gillaspia had a 40-yard time of 4.57.
This was an interesting pick to say the least as my thoughts were the Texans would have selected a running back a little earlier in the draft, but now it looks as though Miller and Foreman are the top choices for the Texans at running back up to this point of the offseason.
Gillaspia will be interesting to watch to see if he can earn a 53-man roster spot or a spot on the practice squad as he's a player to keep note of as the teams gets closer to various offseason camps.