Houston Texans Morning Huddle–Osweiler a "rookie"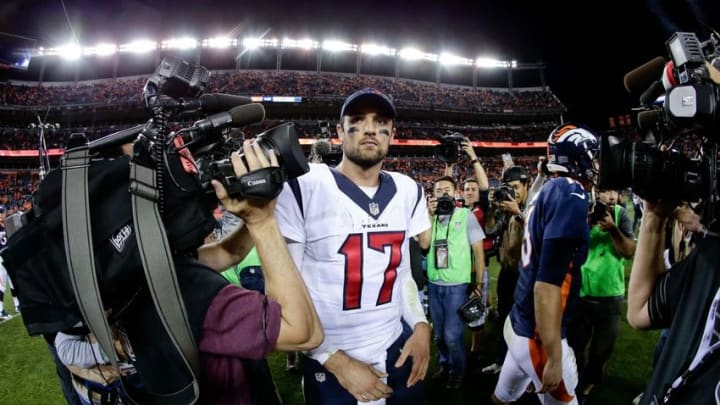 Oct 24, 2016; Denver, CO, USA; Houston Texans quarterback Brock Osweiler (17) after the game against the Denver Broncos at Sports Authority Field at Mile High. The Broncos won 27-9. Mandatory Credit: Isaiah J. Downing-USA TODAY Sports /
Here are your Houston Texans stories for Tuesday:
Owner calls Osweiler a rookie by Alex Butler, UPI
""He's still basically a rookie," The Houston Texans owner told the Houston Chronicle. "He's going to make some mistakes, but he shows that he has the talent, he has the ability and has the leadership that the team has confidence in him.""
Well, most fans don't see it that way since he has been in the league for over four years now. However, his number of starts certainly does not resemble that of a veteran, but it is more than that of a rookie. That and his massive paycheck is reason why he is under such intense scrutiny for every failure and given little praise for when things go right.
Related Story: Texans Still on Right Path
Texans "want more" after 5-3 start by Sarah Barshop, ESPN
"So while the season has been a relative success on paper, Osweiler said the Texans are "absolutely not" satisfied with what they've done so far, which comes as no surprise to those who have watched them this season."We want more," Osweiler said. "We want to be a great football team and we want to do special things."If the Texans want to do "special things" this season, they will need to see more consistency from Osweiler and the offense."
Well special things might be a bit too much to ask for this season. Getting in sync as an offense has been a challenge this season and considering the opening round of the playoffs, should the Texans get there, will be against one of the trio of AFC West stalwarts in Denver (6-2), Oakland (6-2) or Kansas City (5-2). Furthermore, without J.J. Watt the pass rush has struggled and the run defense has been spotty at best.