Houston Texans Morning Huddle–Rookies Ready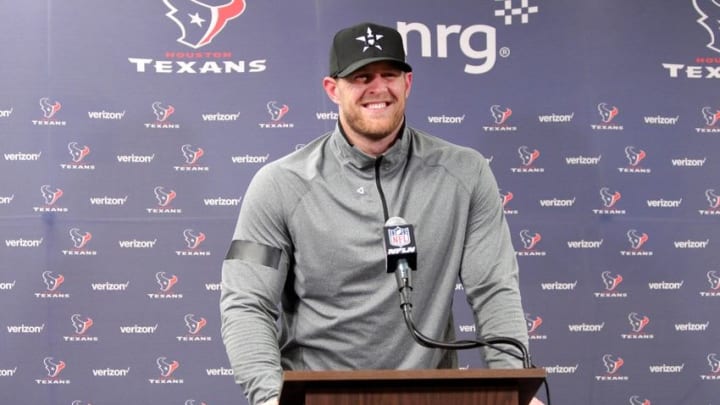 Jun 14, 2016; Houston, TX, USA; Houston Texans defensive end J.J. Watt (99) smiles as he answers question from the media following Houston Texans minicamp at NRG Stadium in Houston, TX. Mandatory Credit: Erik Williams-USA TODAY Sports /
Here are your daily Houston Texans stories for Monday:
Rookies Ready for NFL by Battle Red Blog
"While selecting men of character to play for the Texans is essential, the work cannot stop once the contracts are signed. Instead, the the team held 39 seminars for rookies that are making the transition from college to the pros between May 6 and June 23.In these seminars, the newest members of the Texans received training on social media, NFL policies, workplace conduct, drugs and alcohol, life skills, and diet, among other topics."
Well this sort of training can't hurt. As we've seen off the field consequences can be dire for the career of an NFL player from Ray Rice to Greg Hardy and more.
More from Toro Times
J.J. Watt goes on Jimmy Fallon by Rachel Marcus, ESPN
"The two went back and forth smashing football-painted eggs on their heads, not knowing whether the egg was raw or cooked. Watt, ever the good sport, even ate one of the raw eggs.It's been an eventful week for Watt, who put ESPN's Darren Rovell through a crazy workout while promoting his new training shoe on Thursday."
Watt seems to have been everywhere this season, but the rumors of him with Kate Hudson seem to have died quickly. Really though, it's his life let him live it. But considering his looks and personality, I think he could be on TV for a long time after hanging up the cleats.
Xavier Su'a-Filo has improved by Drew Dougherty, Houstontexans.com
""He has definitely improved," O'Brien said.Su'a-Filo was inserted into the starting lineup for the final eight games of 2015. The Texans wound up going 6-2 during that second half, after stumbling to a 3-5 start through the season's first two months. O'Brien cited three key reasons for Su'a-Filo's improvement."
Last week we wrote how he might be on the roster bubble in training camp. He needs to keep improving if he wants to keep his spot on the team and in the starting lineup.