Texans: Is rookie Christian Harris going under the radar before 2022 season?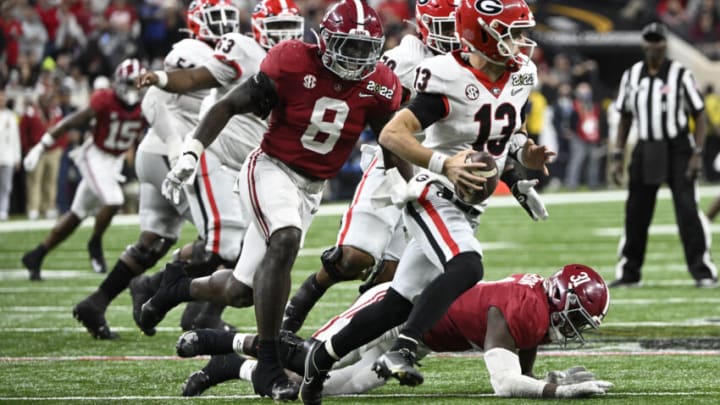 Mandatory Credit: Marc Lebryk-USA TODAY Sports /
Are we overlooking Houston Texans rookie Christian Harris?
During the 2022 NFL Draft, the Houston Texans selected elite talents such as Derek Stingley Jr., Kayvon Green, and Jalen Petite, all of whom should immediately impact in year one.
One player the Texans selected in the third round could be added to that list. That player is the Texans' newest linebacker, Chrisitan Harris, from the University of Alabama.
Harris has all the physical tools to be a starter on day one for the Texans, but how good can he be in his rookie campaign?
The Alabama Crimson Tide have been an elite college program forever, always having some of the best players every season. For the last three seasons, Harris has been one of the Crimson Tide's best defenders. Scouts projected Harris as a potential late first-round or second-round talent, but luckily enough, Harris dropped to the third round, and the Texans were fortunate enough to scoop him up.
Harris is an excellent linebacker with insane athletic abilities as he was a former wide receiver and defensive back in high school.
At the NFL Combine this past February, Harris ran an impressive 4.4 40-yard dash. While some players may have great times at the combine, they don't play as quick as they test, but Harris plays just as fast on the field.
Having a speedy linebacker is essential to a successful secondary, but Harris has things he needs to work on at the next level. Since he didn't play linebacker in high school, Harris may struggle with some reads on the field after only playing the position for a few years, while most players play the same position since early high school.
Texans: Harris has time to improve, make an impact as a rookie in 2022
Harris misses tackles from time to time, but that will be worked on majorly in Texans head coach Lovie Smith's Tampa 2 defense. Harris has some time to catch up, but when he does, he can be scary for Houston.
Harris had one of the best games of his career when it mattered most. Even though Alabama lost in the National Championship game to the University of Georgia, Harris was one of the best players on the field. He had three sacks, four tackles for a loss and a forced fumble in the loss to Georgia.
But will his play like that translate to the next level?
If Coach Smith takes Harris under his guidance and instills his decades' worth of experience coaching defense, Harris can be a solid player for the Texans.
I am not sure if we will see Harris be an immediate impact, but we will see some shining moments throughout the upcoming 2022 season that will be huge for the team.