Houston Texans upgrade aerial weaponry with John Metchie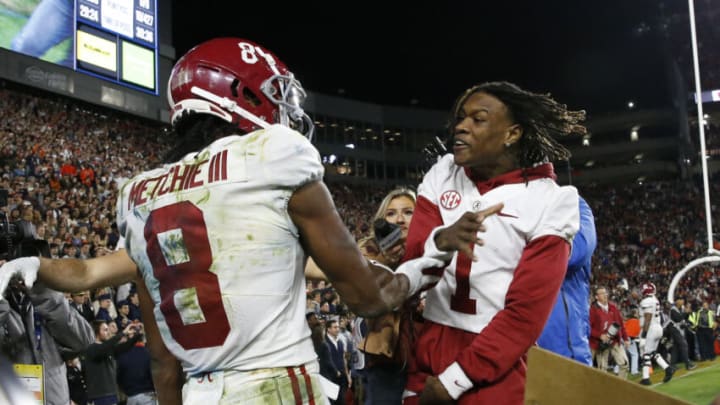 Mandatory Credit: Gary Cosby Jr.-USA TODAY Sports /
The Houston Texans are coming into the AFC South with a new weapon.
Davis Mills and Houston Texans fans are celebrating the fact that John Metchie III is headed to Houston. Nick Caserio had a pipeline of Alabama players during his time in New England; personally, this pick should have been Nakobe Dean, but this is also a good selection.
Houston traded up with Cleveland, giving them three picks and taking them out of Day 2 of 2022. NFL Draft. Houston gave up the 68, 104, and 124th picks to move up and select Metchie.
Metchie tore his ACL in the SEC Championship game and probably won't be ready for the start of the season. But when it's your second pick of the second round, then that's something that you'll take when Metchie is healthy.
The Houston Texans now have an actual wide receiving corps
Gone are the days when Brandin Cooks carried the team. Now it's Metchie who will get a chance to become the new star in Houston. Thank goodness one coach who shall not be named isn't here to get into Metchie's personal business and trade him for a pile of scrap metal.
Metchie shows commitment to Davis Mills and Pep Hamilton, and the team has their burner. I had actually mocked Metchie to the Texans in the third round in January but thought he would be gone by when Houston actually ended up choosing him.
You've got to give credit to Caserio, and he's made power moves when no one has expected it. It's a great counter move to the Indianapolis Colts bringing in Stephon Gilmore.
But with two fourth-round picks being traded, the chances of the lower picks making the roster go way down. So Houston's draft is pretty much done, except for the handful of picks left.
But this is a better outing than expected from Caserio. Good for him, and good for the fans of the Texans. You have deserved something better after the past two years, and now you have it.
Let's hope Metchie, Stingley, Green, and Pitre become great players.