Proposed Houston Texans trade ships Brandin Cooks back to Patriots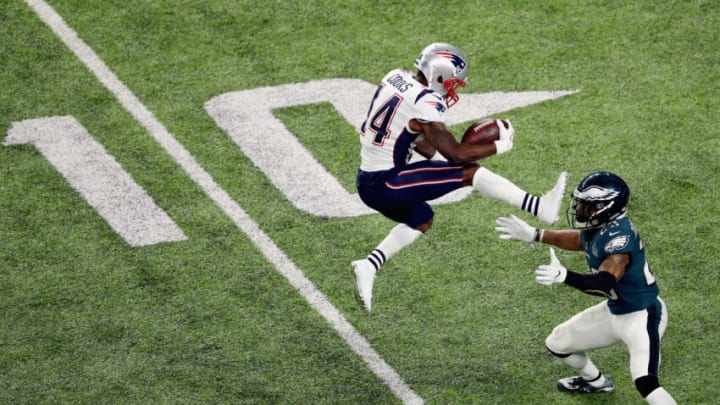 (Photo by Christian Petersen/Getty Images) /
Brandin Cooks was the Houston Texans' best source of offense last season.
Somehow between Davis Mills and Tyrod Taylor, Brandin Cooks was able to produce over 1,000 yards receiving on a 4-13 team. Cooks has posted six such seasons in his eight-year career, and that's enough to have one of his former teams want him back.
A trade proposal from Bleacher Report said that Cooks would be an excellent target for Mac Jones. Our own Chowder and Champions elaborated on it even more with the following trade proposal:
"Well, perhaps they can entice the Texans to take on the contract of Nelson Agholor by throwing in a third or fourth round pick along with a younger player who may be in need for a change of scenery like Chase Winovich or tight end Devin Asiasi."
While those players are less than ideal, if they were to send over the likes of a J.C. Jackson, then we may just have a deal on our hands. It would also be a historic trade, as if Cooks does get shipped to New England (or any team for that matter), it would tie him with the legendary Eric Dickerson as the NFL's most-traded player (four times each).
The Houston Texans trading Brandin Cooks wouldn't be the worst thing
This is supposed to be a rebuild after all, right? Houston has a decent set of wide receivers behind Cooks in Nico Collins, Danny Amendola, and Chris Conley. Trading Cooks could net the Texans a few more draft picks to help out in the few seasons to really build the team into a winner. This team does have a long shot at winning the AFC South, but it's going to take some time.
Nick Caserio, Houston's general manager, came from New England after spending quite a bit of time there. So if Bill Belichick and company came calling, this proposed trade may just have a high chance of happening.