Houston Texans can steer clear of Aaron Rodgers in trade market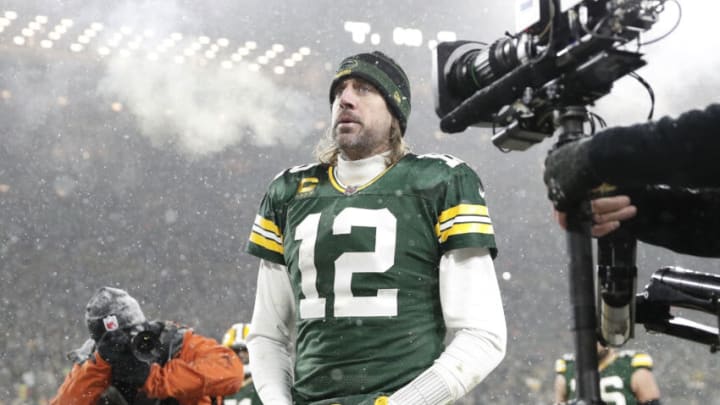 Mandatory Credit: Jeff Hanisch-USA TODAY Sports /
Aaron Rodgers' seemingly final playoff defeat at Lambeau may make teams rethink trading for him.
Aaron Rodgers and the Green Bay Packers fantastically collapsed on Saturday night to the San Francisco 49ers. Whoever the blame falls on, that's for the public to decide. However, the Houston Texans should avoid ascertaining any sort of acquisition of Rodgers come free agency.
The Packers are $40M over the cap, and in the rare event that Rodgers is traded (or cut), the Texans don't need to go after Rodgers. Davis Mills has a bright future, especially how Mills fought hard down big to the Tennessee Titans in the season finale.
Rodgers' cap hit alone is over $40M, so even a Deshaun Watson trade wouldn't help Green Bay very much. However, according to Spotrac's "Manage Roster" feature, Houston could ship Watson for Rodgers and still have about $20M in cap space to work with for the coming year.
Don't expect Aaron Rodgers to become part of the Houston Texans
Rodgers also made it very clear that he wants nothing to do with a rebuild, and that's precisely where the Houston Texans are at. Also, Rodgers has seemed to dip into a lot of off-the-field debates and bickering that has only come back to haunt him (See his "Last Dance" Instagram story post).
Rodgers also is suffering under what Rob Gronkowski is with Tom Brady. Gronkowski has said he would only play if Brady was his quarterback. Rodgers' version is just locking in on Davante Adams, who really was the entire offense. It was shrouded beautifully in between a weak division and a running game that did its part.
Let Rodgers decide if he will continue to play, and even after that point, Rodgers has no chance of coming to Houston.