Could Washington emerge as favorites to land Deshaun Watson?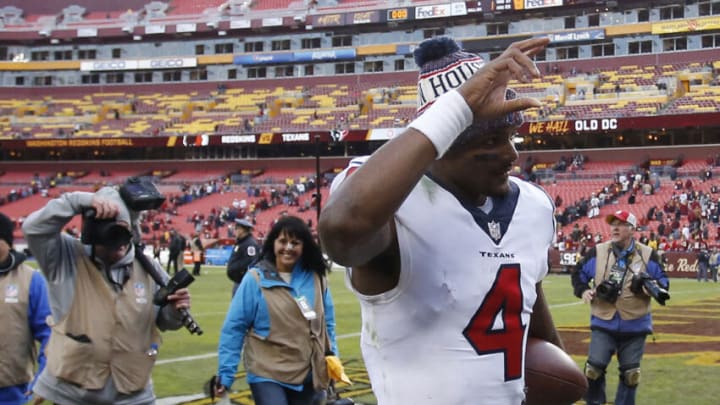 Mandatory Credit: Geoff Burke-USA TODAY Sports /
As clarity on what Deshaun Watson's legal situation will end like nears, so does another destination.
As Deshaun Watson's deposition date gets nearer, the chances of him being traded could, in theory, increase. One of those lesser-talked-about destinations is the Washington Football Team/ whatever they're going to re-name themselves.
When Ron Rivera was asked about acquiring Deshaun Watson, he had the following to say:
""This organization will be able to do what it needs to do, OK? And that's all I'm going to say on that.""
That could signal that Rivera and GM Martin Mayhew could collaborate on a proposal that would satisfy Nick Caserio's ransom-like list to bring Watson to the nation's capital. It also isn't totally out of the question as Taylor Heinicke didn't exactly end 2021 as well as he did 2020. There were some rough stretches towards the end of the season.
Washington was our third-likeliest Deshaun Watson destination
Months ago, I ranked seven different trade destinations for Deshaun Watson. In that article, I ranked Washington this high due to how much of a win-win trade this would be for both teams. The original trade idea is below:
Watson in burgundy red would instantly transform their offense, as Watson would actually throw the ball to their best wide receiver, Terry McLaurin. The NFC East is also one of the weakest divisions in the entire league (next to the NFC North), and Watson would elevate them to a playoff position.
Meanwhile, on Houston's end, Davis Mills appears to be the guy barring a surprise pick at number three in the draft this year. Chase Young would be a phenomenal talent to bring in, along with two good first-round picks.
The roulette wheel of where Watson will land up is still spinning; it just appears that Washington could have a shot at landing him when it stops.