Houston Texans rumors: Deshaun Watson-Russell Wilson trade a possibility?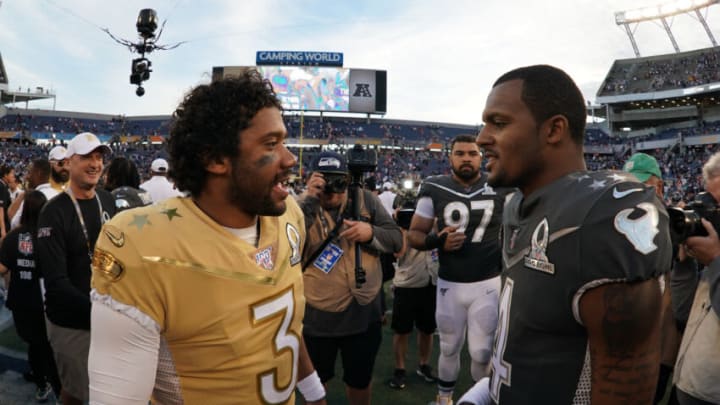 Mandatory Credit: Kirby Lee-USA TODAY Sports /
Rumors are starting to warm up again that Russell Wilson could be traded. The Houston Texans could sneak in and make an offer.
Quarterbacks going to the opposite teams via trade is one of the rarest things you'll ever see in the NFL. But could the Houston Texans swing for the fences by sending Deshaun Watson for Russell Wilson?
Jordan Schultz, the host of the "Pull Up Pod," posted that his sources told him that Wilson would waive his no-trade clause (hey, we know a guy!) to go to three different teams. Those teams are the Giants, Saints, and Broncos.
While the best of these teams is the Saints, why would he include the Giants and Broncos when they're not that much better than his current team?
Russell Wilson for Deshaun Watson would be a perfect trade for the Houston Texans
Forget that Seattle doesn't have a first-round pick this year- they have them in 2023 and 2024. This would be a win-win for everyone involved. If they wanted to land Wilson, the Texans would most likely have to give up their currently third overall spot. That may be the best quarterback they can go after, as this isn't the best QB draft class to choose from.
As always, the chances of this happening are slim. However, the thought of not having to deal with Watson's situation would be a tremendous step in the right direction for Houston. No more legal distractions, no more bad vibes. The guy who would replace Watson would be a breath of fresh air, even if the offensive line is equivalent to Seattle.
All it takes is one player to attract other free agents and players to the team. Russell Wilson is that guy.