NFL Week 7 Power Rankings: Ravens rise, Dolphins plummet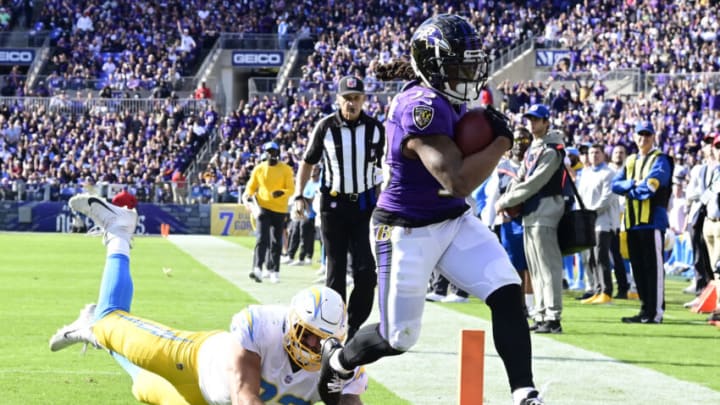 Mandatory Credit: Tommy Gilligan-USA TODAY Sports /
The Miami Dolphins embarrassingly lost to the Jacksonville Jaguars, and the Baltimore Ravens schooled the L.A. Chargers. Here's the Week 7 NFL Power Rankings:
The Lions fight hard, but it's hard to rank a winless team any higher.
Big Blue got a big beatdown by the Matthew Stafford-led L.A. Rams and didn't score a TD until garbage time.
A slight rise for getting the first win of the season last week against Miami.
A five-game losing streak and having to play the Cardinals this week? Ouch.
To think they went into Foxborough and beat the Patriots in Week 1. The loss to Jacksonville makes them join the bottom of the list.
The only reason the Jets are ahead of the Texans is due to Zach Wilson and his future, and their lone win being over a legit team in the Tennessee Titans.
This is a "Jekyll and Hyde". What team will we see from week to week? From playing the Chiefs close one week to getting blown off the map next week, the Eagles are unpredictable.
Cordarelle Patterson would win the "have yourself a career year" award if there was one in the NFL.
Imagine what the 49ers would be right now if they could've played defense for 37 seconds against Green Bay. A lot higher in our NFL Power Rankings, that's for sure.
Bill Belichick is trying hard with Mac Jones, but there is growing pains with a rookie for a reason.
Don't blame these losses on Geno Smith- he doesn't deserve that. Blame Jon Schneider and Pete Carroll for failing to adapt their offense and personnel. When's the last time the Seahawks had a good offensive line?
Eventually Riverboat Ron has to turn this around, right?
The Colts could easily have been on a 3-game win streak had Rodrigo Blankenship made one more field goal. Carson Wentz looks like the 2017 version of himself.
This is the Sam Darnold we all know from his time in New York.
Is it surprising that these two teams started 3-0 and are the same record? Not too much when you think about it.
As Justin Fields goes, so do the Bears. Help this kid with some protection and weapons and he will flourish.
The Vikings nearly did another Mike Zimmer-induced choke against Carolina last week.
Can Ben Roethlisberger stay healthy enough to last through the season? That's the only way they can stay competitive in the AFC North.
Jameis Winston may be turning back the clock to his Florida State days. If he continues to ball out, then the Saints may just be a wild card team.
Something just seems off about the Chiefs this year. Is it Patrick Mahomes' fiance and brother? Is it Tyrann Mathieu's cryptic tweeting again? The world may never know.
The only thing saving them is their run game, but this is going to change after Thursday Night's game based on how well they can run with backups.
Losing to the Bears was surprising, but the John Gruden emails fiasco certainly did not help either. That loss still can't happen for this Raiders team.
The Chargers were served a reality check from the Baltimore Ravens, and rightfully so as it feels like the Chargers have overachieved since their losing record last season.
They throttled Detroit just like they should. Their schedule from this point out isn't too tough either.
Only here because they have to thank their turf for helping them win the game.
They aren't better than Buffalo.
Dak Prescott is playing angry and motivated and that's what makes them so dangerous to any team.
Great record, weak division, and struggled in the first half against Detroit and only beat Chicago by 10 points. Rodgers is always scary, but targeting Kevin King remains the way you beat the Packers.
One can never rule out Tom Brady and whatever team he plays for. Although the passing defense is looking "sus" as the kids say (6th most passing yards allowed).
A loss like that doesn't take anything away from what they've done all year, nor their spot near the top of our NFL Power Rankings. The debate to go for it can be debated, however.
Lamar Jackson is dangerous. Just ask the Colts.
You can't top perfection. Arizona looks to go 7-0 against a Houston Texans squad. If they achieve that, they will match that mark for the first time since 1974. They are the kings of our NFL Power Rankings this week.