Houston Texans finish in Top 20 of NFL Fandom 250 rankings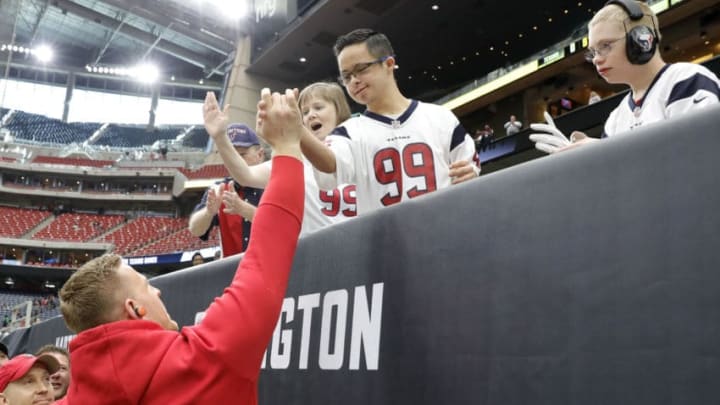 HOUSTON, TX - DECEMBER 02: J.J. Watt #99 of the Houston Texans greets fans before the game against the Cleveland Browns at NRG Stadium on December 2, 2018 in Houston, Texas. (Photo by Tim Warner/Getty Images) /
The Houston Texans finished 17th in NFL Fandom 250 rankings for 2018 from FanSided.
The annual Fandom 250 rankings presented by FanSided have the Houston Texans ranked at 144th overall out of categories, which include sports and entertainment. As far as their NFL rank the Texans come in at 17th overall.
The Fandom 250 article stated the following about the ranking of the Texans:
""The Texans came to the city in 2002 and despite limited success on the field (the Texans have never appeared in the AFC Championship Game), the stands at NRG Stadium have continuously been packed in hopes that better times are ahead.""
This is true as NRG Stadium of the Texans looks packed each and every home game. Not only that, fans of football in general are passionate folks, but with the Texans football fandom seems to mean just a little bit more than compared to other fan bases.
Do we believe the Texans are better than the 17th overall fandom ranking given for NFL teams? Yes, but that is for the fact look at how much passion fans of the Texans showcase each and every week and that should be enough alone.
As for the legacy factor of the Fandom 250 rankings, here is what was written about the Texans, as the article also looked back at the Houston Oilers too. The article stated:
""Simply because the Texans have been around for less than 20 years, the legacy is still in the making. However, if you want to date back to the Oilers, you're talking a serious legacy.""
That is true. The "better days" of the Texans might be happening right now as they have won nine consecutive games entering Week 14, and not only that, they are close to winning another AFC South championship while battling for a first-round bye.
The Fandom ranking for all teams and entertainment on the list are ranked by the following criteria set by FanSided:
""We landed on five key measures, each was assigned a number of points for a total (and perfect score) of 100: Legacy (10 points), Fansmanship (25 points), Passion (25 points), Buzz (25 points) and Magnitude (15 points).""
This is a fun list to read and rankings are always exciting. Houston has players who fans can praise at a high level for the foreseeable future in quarterback Deshaun Watson, wide receiver DeAndre Hopkins and defensive end J.J. Watt to name just three.
Though the Texans should be higher on the list, the franchise is still young compared to many other teams listed. Eventually as time moves forward and the Texans start winning championships, the Fandom 250 ranking will be better as well.
Now it is time to enjoy the remainder of the season with the Texans having a 9-3 record and let's see where the team goes from here.