Alfred Blue's importance in the Houston Texans' rushing attack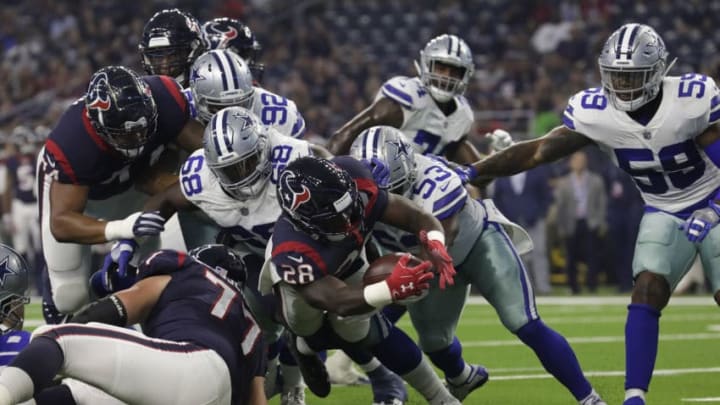 HOUSTON, TX - AUGUST 30: Alfred Blue #28 of the Houston Texans dives across the goal line for a touchdown defended by Justin March-Lillard #53 of the Dallas Cowboys and Daniel Ross #68 in the first half of the preseason game at NRG Stadium on August 30, 2018 in Houston, Texas. (Photo by Tim Warner/Getty Images) /
The Houston Texans sport one of the best rushing attacks in the league complemented with one of the best passing attacks with quarterback Deshaun Watson.
The Houston Texans have the 11th ranked rushing attack in the NFL due to Alfred Blue's ability to come in and wear down defenses with his physicality. Texans head coach Bill O'Brien is able to decipher opposing defenses and take advantage of their weaknesses by using one specific type of offenses, as the Texas have rushed the ball a total of 305 times for a total of 1,221 yards.
The Texans' rushing attack has been in the spotlight as of late due to its the great success. One key part of this attack is the duo of Lamar Miller and Blue, the latter is often an unheralded part of this rushing attack. However, he does make a major impact on this team. It is important to analyze Blue's role in this offense. Blue, a four year veteran out of LSU, has contributed to this team's offense.
More from Houston Texans News
His addition has made this running attack a two-headed monster, making opposing defenses struggle to stop both Blue and Miller. Blue is a useful player due to his unique versatility and strong frame. This versatility can be seen as Blue is one of the more dependable backup running backs in the league. Blue can, obviously, run the ball well. Blue can also act as both a good blocker and as a good pass-catcher in the backfield.
This can be seen as Blue is able to fit in many offensive schemes. He can be a dependable back in converting on a third-and-short or gaining tough yardage on a second-and-long. Blue has been a reliable blocker in passing downs. Taller and stronger than Miller, Blue is often the running back in shotgun formations and is able to block edge rushers and buy some time for Deshaun Watson to go through his progression and make a play downfield.
In addition, Blue has improved as a pass catcher. This season, he has caught 11 passes for 94 yards and has a 73.3-percent catch rate. This ability to perform a variety of roles on the offense allows him to be an X-factor that can stymie opposing defenses. Although an unheralded player, Blue has made a lasting impact on the team and this rushing offense.
Blue is quite useful in that he often provides relief for Miller. Since being brought in free agency from the Miami Dolphins, Miller has quite been utilized in the role of a workhorse. Miller, in the past two years has combined for 506 carries. This has had quite an effect on Miller, often fatiguing him and leading him to worsen his game.
However, with the reintegration of Blue into the rushing attack, it lowers the number of carries that Miller receives, giving him his rest and allowing Miller to perform at a higher level down the road. This has led to Miller to be more efficient with the ball. A noticeable pattern during the Texans' seven-game winning streak is the number of times that Blue gets the ball.
Blue has had at least seven carries in each of the Texans' wins, proving his worth and the importance in the backfield. Although Blue might not receive big yardage with his limited carries, Blue provides well-needed relief for Miller.
Overall, Blue has an irreplaceable effect on this Texans' squad. His drive and effects on this team can be felt great as he is a very versatile and multi-faceted player. He is often the key on many offensive plays and drives and deserves more respect.