Houston Texans: 5 ways to end a 300-plus day losing streak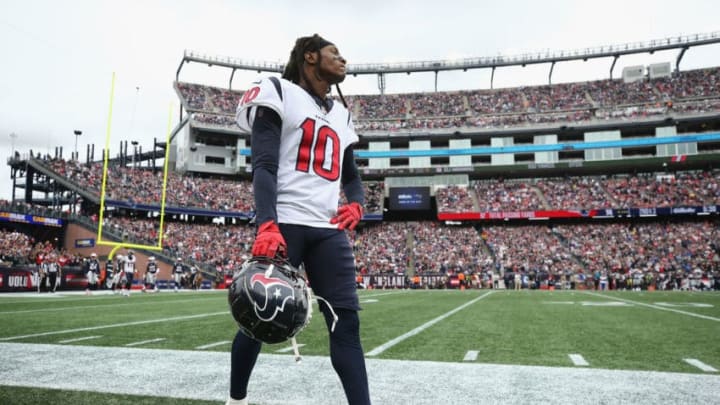 FOXBOROUGH, MA - SEPTEMBER 09: DeAndre Hopkins #10 of the Houston Texans reacts on the sideline after Stephon Gilmore #24 of the New England Patriots (not pictured) intercepted a pass during the first half at Gillette Stadium on September 9, 2018 in Foxborough, Massachusetts. (Photo by Maddie Meyer/Getty Images) /
The Houston Texans now have the longest losing streak in the NFL following Thursday night's win by the Cleveland Browns. Here are a five ways to fix that this Sunday.
The Houston Texans are now the team with the longest losing streak in the NFL as the Cleveland Brown finally won for the first time since 2016 on Thursday Night Football when they defeated the New York Jets, 21-17 in front of a national audience.
That win left everyone wondering: which team has the longest losing streak in the NFL now? Well, the good folks at Pro Football Talk have answered that question, and the answer is the Houston Texans. The last time the Texans won was in mid-November of the 2017 season when they defeated the Arizona Cardinals.
Josh Alper of ProFootballTalk.com the following about the Texans' losing streak:
""Houston beat the Cardinals 31-21 on November 19 behind two D'Onta Foreman touchdown runs and two Tom Savage touchdown passes and then closed out the 2017 season with six straight losses.""
That means the Texans' current losing streak now stands at eight games, and it isn't a given — as no game in the NFL is — that it will end this weekend, though the Texans are a six-point favorite against the visiting New York Giants, who are also 0-2 entering the Week 3 game.
Granted, of the 300-plus days without a win, a lot of that was the offseason, and since then, this season the Texans have lost to the New England Patriots by seven points and to the Tennessee Titans by three points to start the 2018 season. Though those aren't terrible losses on the scoreboard, they are losses nonetheless. Houston was favored by -3.5 points last weekend against the Titans, but a terrible start left Houston playing from behind, and they did not complete the comeback effort.
The Giants are struggling just as much as the Texans are, with the likes of Eli Manning, Odell Beckham Jr., Sterling Shepard and rookie Saquon Barkley, all of whom are very talented players and would start on most teams in the NFL. The good thing for the Texans is that they are not only favorites, but they know if the Browns can end an even longer losing streak, then they are capable of achieving the same feat this Sunday.
Listed are five ways the Texans can win and discard the title of having the longest current losing streak in the NFL.