Facing Steelers without Antonio Brown, Texans still face daunting task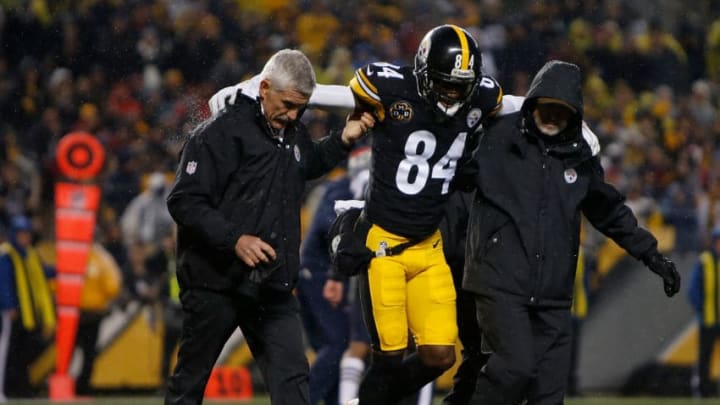 PITTSBURGH, PA - DECEMBER 17: Antonio Brown /
The Houston Texans face the unenviable task of taking on the Pittsburgh Steelers after a controversial ending to their last game. The Steelers will be looking to take out some frustration and unfortunately for the Texans they host Pittsburgh this week. However the task of taking on one of the best teams in the NFL has gotten slightly easier. Pittsburgh will be without their All-Pro wide receiver Antonio Brown for the contest.
Brown suffered a partial-tear of his calf muscle which has ended his regular season and put his postseason availability in doubt. This will affect Monday's game between the Texans and Steelers. The Pittsburgh offense without Brown is still overpowering for most teams to handle. Unfortunately the Texans are missing key players all over their defense. Considering the fact that Le'Veon Bell is just as lethal in passing game as he is running the ball, the Texans are in rough situation. Houston is allowing the 10th-fewest rushing yards per game this season. The 11 rushing touchdowns allowed is tied for 12th most. Bell's contributions may be more related to the passing game than the running game come Monday.
JACKSONVILLE, FL – DECEMBER 17: Keelan Cole runs past Texans cornerback Johnathan Joseph during last Sunday's game. /
Pittsburgh wide receiver JuJu Smith-Schuster is proving to be quite the weapon. While not the dominant receiver that Brown is, he is more than capable of taking advantage of a bad pass defense. Houston's pass defense is allowing the sixth-most yards per game (247.8). Having allowed the second-most passing touchdowns (27) is not helping their cause either. Considering Pittsburgh has the second-best passing offense this season it could be a long day for the Houston defense.
The Steelers average 280.7 yards per game through the air. Ben Roethlisberger has thrown 26 touchdowns compared to 14 interceptions on the year. Even without Brown, Roethlisberger should have a field day against the struggling Texans defense. Houston has not done a good job at any point stopping the passing game of their opponent. It is highly unlikely that Houston will be able to stop the prolific Pittsburgh offense.
The Texans are walking into a proverbial bear trap. This is due to the ending of the Steeler's last game and the Texans sub-par defense. The Steelers offense should have their way with the Texans defense and put the game away rather early. The only hope for a close game is that the absence of Antonio Brown has a ripple effect on the rest of the offense. Even then the game is doubtful to end positively for Houston.