Texans offense smothered by Jaguars in 45-7 loss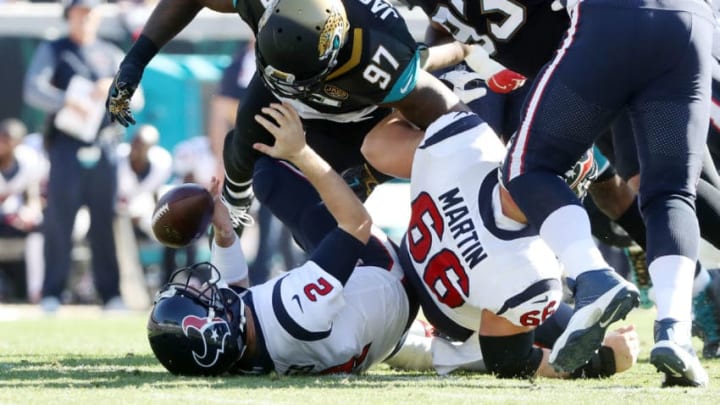 JACKSONVILLE, FL - DECEMBER 17: Malik Jackson /
The worst case scenario for the Texans came to fruition during Sunday's loss to the Jaguars, the offense was smothered. As predicted, the Jaguars defense continued to play as one of the league's best units. Jacksonville never gave Houston a chance to be competitive throughout the contest and the game was over essentially from the start.
Texans quarterback T.J. Yates was inefficient, completing only 12 of 31 passes on the day for 128 yards, one touchdown and one interception. Jacksonville sacked Yates four times and hit him nine times in the contest. This performance from Yates is not a surprise due to the defense of Jacksonville. The Jaguars can shut down the best quarterbacks in the league and Yates is far from that.
DeAndre Hopkins of the Texans makes a catch during the second half against Jacksonville. (Photo by Sam Greenwood/Getty Images) /
The duo of Lamar Miller and Alfred Blue struggled to perform in the contest as they combined to rush 21 times for 87 yards. This is not the performance the Texans needed on the ground. To truly stay competitive in the game Houston needed a combination of both an effective running game and passing game, neither happened. The lone bright spot offensively was the performance of DeAndre Hopkins. Hopkins hauled in 4 passes for 80 yards and one touchdown. The performance from Hopkins is not surprising since he is one of the best receivers in the NFL.
Defensively the Texans were unable to stop the Jaguars offense. Jacksonville quarterback Blake Bortles was incredibly efficient completing 21 of 29 passes for 326 yards and three touchdowns. The Jaguars rushing attack combined to rush 38 times for 138 yards and three touchdowns. Corey Grant led the way for Jacksonville with 10 rushes for 69 yards and one touchdown, Tommy Bohanan added two scores on two rushes for two yards. Chris Ivory rushed 17 times for 42 yards and T.J. Yeldon ran seven times for 27 yards.
The Texans struggles with not being able to get to the quarterback continued on Sunday, Houston managed only one sack on the day and one hit on Bortles. As a result of the season-ending injuries to J.J. Watt and Whitney Mercilus the Texans pass rush not been effective. Jadeveon Clowney is only capable of doing so much and with the opposing offense focusing on stopping him he will not be effective as he is needed to be. The Texans need to find a way to manufacture pressure rather than relying on Clowney.
At some point the Texans will be back to full strength on both sides of the ball, until that point this will be the result for Houston. Heartbreaking defeats without key players who can make a difference for the team to lead the Texans to victory. As much as a winning one more game would be nice for the Texans. However the reality is that winning another game is highly unlikely for Houston.