3 takeaways from Texans loss to Ravens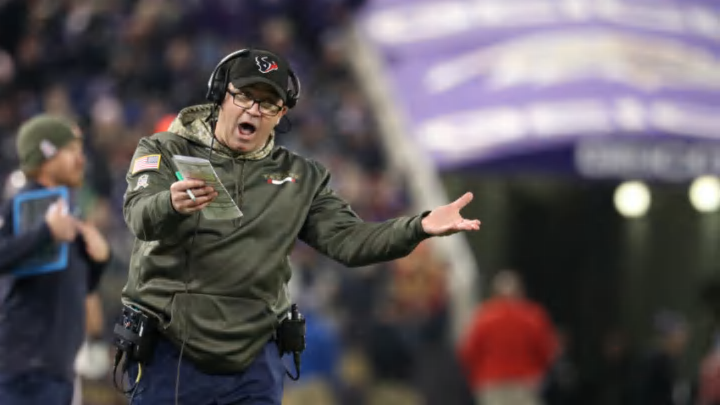 Photo by Rob Carr/Getty Images /
With the Houston Texans falling to the Baltimore Ravens on Monday night, their season is now just about over with a 4-7 record.
The Houston Texans put together a good effort against the Baltimore Ravens on Monday night, but quarterback Tom Savage can't seem to stop throwing games away.
Here are three takeaways from the Texans' latest loss:
Tom Savage keeps making big mistakes
I don't think Texans' quarterback Tom Savage can play an entire game without making at least one bad decision. He threw an interception in the first half that led to a touchdown for the Ravens and allowed them to score 14 unanswered points.
It's also startling how inaccurate Savage is. It's scary that many people thought he was a better option than Deshaun Watson heading into this season. Rookie or not, Watson is head and shoulders better than Savage.
More from Toro Times
Savage also had the ball stripped from him as he stood in the pocket late in the fourth quarter. The Ravens of course recovered and it looked like the game was over.
But the Texans were lucky and got another chance. But on the next drive Savage threw his second interception of the night, which put the game away and ended the Texans' season.
DeAndre Hopkins arguably the best receiver in the NFL
I really thought that DeAndre Hopkins was having a great season because of how well Watson was playing before he suffered a torn ACL. But he's been proving that he can still be great even with a belowaverage quarterback like Tom Savage throwing him the football.
The Ravens' top cornerback, Jimmy Smith, had no chance in stopping Hopkins, who finished the game with seven catches for 125 yards.
Jadeveon Clowney continues to have an all-pro season
I feel like I keep repeating myself every week when it comes to Texans' linebacker Jadeveon Clowney. He continues to wreak havoc on opposing offenses. Unfortunately, he can't play quarterback as well.
Comment below and give us your thoughts on the Texans' loss to the Ravens.