Texans' preseason primer: 5 players to look at in Carolina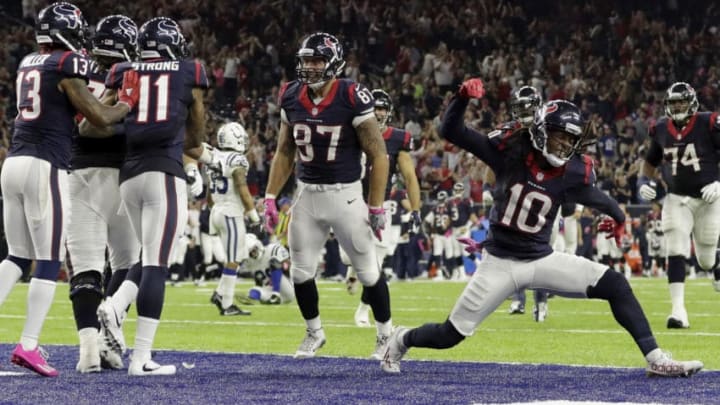 HOUSTON, TX - OCTOBER 16: DeAndre Hopkins /
When the Houston Texans begin the preseason, it will be some player's first opportunity to make a name for themselves and potentially breakout in 2017.
Yes, it is finally here. Football.
The Houston Texans face the Carolina Panthers today in the first preseason game of the 2017 season. Stars like quarterback Cam Newton and defensive lineman J.J. Watt will not be playing on the field, but it is still an exciting time.
Finally, we get to see the Texans first round selection and National Champion quarterback Deshaun Watson.
We get to see what new Texans' defensive coordinator Mike Vrabel has in store for us this season, even though it is just preseason.
We will not see quarterback Tom Savage battle out the aforementioned rookie, but we do get a glimpse into his development.
With all of that being said, there will be three players that should stand out tonight and make a big name for themselves by the time the game is over.
Jaelen Strong is primed for a starting spot.
Since going in Texans' head coach Bill O'Brien's doghouse during his rookie training camp, Jaelan Strong has never seemed to regain the coaches grace. That was never more evident than in last year's draft, when the team selected Will Fuller and Braxton Miller in the first and third rounds.
Fuller had issues with catching the ball last season, mainly due to poor hand size and focus. He is very talented. He also went down with a broken collarbone this summer, opening up a spot on the depth chart.
Strong has issues with focus as well, but has never lost the talent he possesses.
The former Arizona State wideout has served as the 'Colt Killer' in the last two seasons with his best performances coming against the AFC South rival Indianapolis Colts.
At 6-foot-2, 210 pounds, Strong has the size to play outside. He has had three seasons in Houston to learn the system and three to play as Savage's main option in practices. The two showed chemistry last preseason when they connected for touchdowns.
Brennan Scarlett could be the next John Simon.
Undrafted out of Stanford, Brennan Scarlett signed with the Texans last offseason as an undrafted free agent and worked his way into a role by the end of the year.
With Watt hurt, Jadeveon Clowney played some defensive end last season which pushed Scarlett into the third outside linebacker used in the rotation. He showed some play-making ability against the Cardinals last preseason when he sacked quarterback Matt Barkley and forced a fumble.
With John Simon having left for the rivaled Colts, there is an opening at outside linebacker for the Texans.
Just as Simon started last year's preseason opener for the Texans in San Francisco with a bang, so could Scarlett.
He may not have a fumble return touchdown like Simon did, but watch out for Scarlett to come flying off the edge as he gets majority reps with Watt and Clowney out.
21 belongs to Nelson now.
I am sure you have heard the hype about cornebrack Robert Nelson this offseason. If not, let me fill you in with the following article:
Related Story: Is Robert Nelson the next A.J. Bouye?
Caught up to speed yet?
If you blinked you may miss Nelson's elite agility and lateral quickness. The dude can move. With the projected move of Kareem Jackson to safety, and A.J. Bouye signing with the Jaguars, it creates a hole at nickel corner for the Texans.
The book is still out on former first round selection Kevin Johnson as well, but I do not believe he will be unseated by Nelson.
Nelson will get to showcase his elite speed and quickness, which hopefully leads to a big play.
Nick Martin is healthy and ready to solidify the Texans' offensive line.
Duane Brown is still MIA. Derek Newton may never play again sadly. Xavier Sua-Filo has not lived up to his second round selection. But maybe Nick Martin can?
No, not maybe. He can and he will. Martin, the former Notre Dame standout, is a stud. He will showcase what the Texans have been missing since they let go of Chris Meyers four offseasons ago: a pro bowl caliber center.
I expect Martin to get at least a full half of snaps at center. Unlike most starters in the first preseason game. The coaching staff will most likely want to see how he handles himself throughout the game and with a quarterback switch from Savage to Watson.
Braxton Miller will finally tease us with his potential as a Texan.
Everyone knew when the Texans selected the former Ohio State quarterback that it would be a project transitioning him into the NFL as a receiver.
The Texans' staff seemed hell bent on him being their main slot receiver, as that was the main position he ran routes from his rookie season. Reports from camp have been great regarding the second year man. A handful of that praise can go to his coach: Wes Welker.
Yes, this is an exhausted storyline of the offseason, but Welker's presence in Miller's life will undoubtedly breed on the field success. Welker knows everything there is to know about route running as well as O'Brien's scheme and the routes he asks out of the slot.
With Fuller out and Hopkins on a snap count as the starter, Miller will have at least a half to torch the inside of the Panthers' defense- and he will do just that.
More from Toro Times
This will be a good game overall.
The first game of the preseason is usually a bit sloppy; sometimes to the point where one team runs away with it due to the opposition's lack of execution. That will not be the case today.
The Panthers and Texans are both deep teams ripe with talent. I expect the game to start with some big defensive plays on both sides but by the second quarter there will be fireworks alike.
Both teams have play makers in Miller and Christian McCaffrey who will take advantage of second-unit defenses. Watson will look stellar against backups as well.
Look closely not at the box score or the win or lose column however, look at the five players mentioned tonight and see who makes a name for themselves.