Week 17 Prediction: Texans at Titans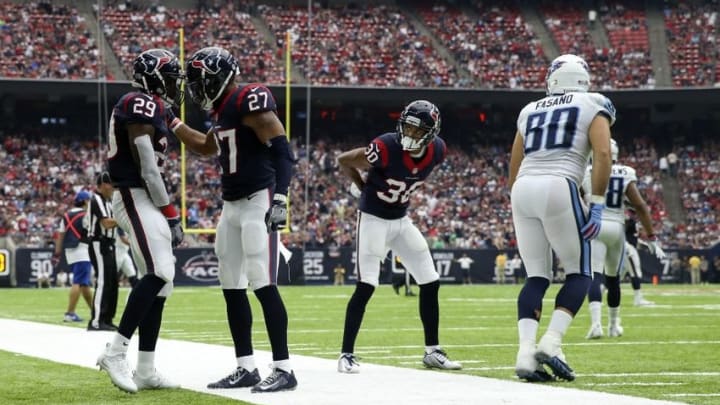 Oct 2, 2016; Houston, TX, USA; Houston Texans free safety Andre Hal (29) and strong safety Quintin Demps (27) react during the fourth quarter against the Tennessee Titans at NRG Stadium. Mandatory Credit: Kevin Jairaj-USA TODAY Sports /
With the Texans and Titans both having their fates sealed in this game, this certainly will not carry the same intrigue as it could have. But here is how I believe the Texans will do in their final playoff tune up:
So far the Texans have won both games since making the quarterback change from Brock Osweiler to Tom Savage. Granted, they were both home games against the 3-12 Jaguars and the 5-9-1 Bengals. They were also by a combined three points. Still, it was good enough to seal up a second consecutive division title.
The Texans know they will be back at home for the wild card round, as they are going to be the four seed again; just like they were last season. So how will they handle this game with the Titans?
I think they will play to win. Savage needs all the reps he can get before making his first playoff start in a week. That's why I would also keep DeAndre Hopkins, Will Fuller, C.J. Fiedorowicz and Ryan Griffin all active. But I would make Lamar Miller inactive because he could use the rest and would be better to avoid taking hits in a meaningless game.
The Titans secondary has been dreadful this season. Antwon Blake gets burned consistently and we might see Savage take a few deep shots in this game just to test his arm. I mean, what does he have to lose? Even if he throws interceptions deep they won't cost the Texans much.
Marcus Mariota will miss this game for the Titans after getting hurt last week in their loss to the Jaguars. That will put Matt Cassel in at quarterback, and he was bad in relief of Tony Romo in Dallas last season. We know that it was not the offensive line or running game; because the Cowboys have a great line and Darren McFadden ran for over 1000 yards last season. The Texans defense should have a field day in this one.
There is no reason for the Texans not to play eight in the box all game long. DeMarco Murray and Derrick Henry have formed a stout 1-2 punch at running back. But without much threat through the air the Texans will crowd the line.
However, the Titans are not to be underestimated. They have won in Kansas City, Miami and Detroit this season, knocked off the reigning champion Broncos and beaten the Packers handily. Even without their starting quarterback they will put up a fight.
The Texans are just 2-5 on the road this season, but with the Titans being undermanned and perhaps not aptly motivated with nothing to play for, I think the Texans have an edge.
Houston gets a little momentum going into the playoffs with a 23-20 win.