Houston Texans morning huddle: Brock or Bust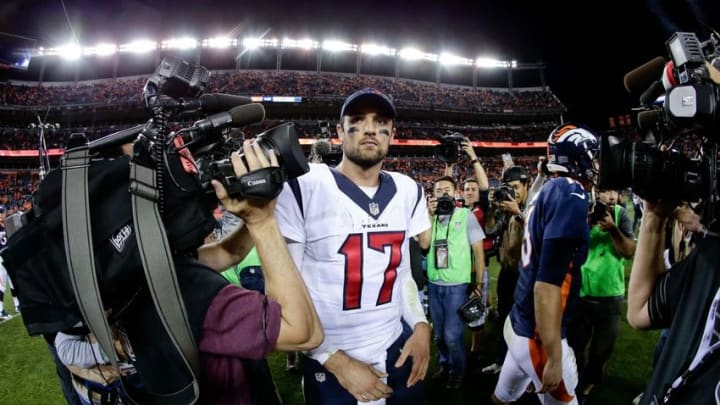 Oct 24, 2016; Denver, CO, USA; Houston Texans quarterback Brock Osweiler (17) after the game against the Denver Broncos at Sports Authority Field at Mile High. The Broncos won 27-9. Mandatory Credit: Isaiah J. Downing-USA TODAY Sports /
The morning huddle brings fans all the Houston Texans news sources they need in order to keep up with their favorite NFL franchise
"Although Houston Texans quarterback Brock Osweiler played poorly in the team's 27-9 loss to the Denver Broncos, coach Bill O'Brien said he has not considered benching his quarterback."He's a good player," O'Brien said. "I think it's very difficult to come into a new system and a new team and just pick it up right away. I think everybody has to do a better job.""
"Head coach Bill O'Brien isn't looking for scapegoats or excuses to explain the inconsistent play that has left the Houston Texans with a 4-3 win-loss record when many analysts projected that this is the year they might challenge the AFC's elite teams to make a run at a Super Bowl appearance.But after winning their first two games – both at home over the Bears and Chiefs – the Texans have been anything but elite.They've struggled on offense under new starting quarterback Brock Osweiler, and the defense hasn't been able to stop the run. Both of those deficiencies were glaringly apparent in Monday night's 27-9 road loss to the defending Super Bowl champion Denver Broncos."
"If success is determined only by the size of your bank account, then Brock Osweiler is your man. He was offered an $18 million wage to work for the Houston Texans and a $16 million wage to work for the Denver Broncos, and he took the extra loot. In that context, Houston, we have no problem."
"1. I want to start with something positive: cornerback A.J. Bouye. The fourth-year undrafted player is turning into a star in front of our eyes. He's so far above and beyond where he was in 2015, and he's turned into one of the team's top three defenders on the team. It was clear early on that the Broncos wanted to challenge him and he responded. That strategy ended up taking a detour on Gary Kubiak and the Broncos offense once Bouye made one play after the other in the first half. He led the team with 11 tackles, which isn't always a great mark for a defensive back. That said, he was the only Texans defender to rack up a pass breakup (he had two) and one of only three defenders to rack up a stat outside of a tackle on Monday night."