Texans Tidbits–What we Learned from Week One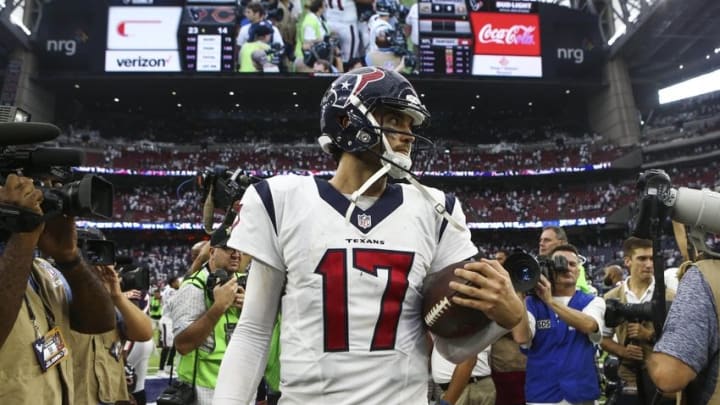 Sep 11, 2016; Houston, TX, USA; Houston Texans quarterback Brock Osweiler (17) walks off the field after the Texans defeated the Chicago Bears 23-14 at NRG Stadium. Mandatory Credit: Troy Taormina-USA TODAY Sports /
3. The run defense may be better than expected
The Bears were supposed to have a pretty good running game, led by Jeremy Langford. But the Texans kept him largely contained on Sunday as he ran for 57 yards on 17 carries, with 17 yards coming on one run. He did find the end zone, but that was the lone strike against the Texans run defense.
That was going to be the main question for me coming into the season on the defensive side of the ball–how would they be able to stop the run? However, with the loss of Brian Cushing for a currently unknown length of time and the Chiefs coming to town this week, this coming week will provide a much stiffer test.
The Texans also got plenty of pressure on Jay Cutler, sacking him five times and getting in plenty more shots. Whitney Mercilus had two sacks and Jadeveon Clowney had one, and while J.J. Watt did not get a sack in this game he did hit Cutler three times.
All in all, winning in week one is still a good way to start the season. But next week the Chiefs will come to Houston for the third time in the last 19 Texans games (excluding preseason), and that game will show us a lot about this team.