Texans Tidbits–What we Learned from Week One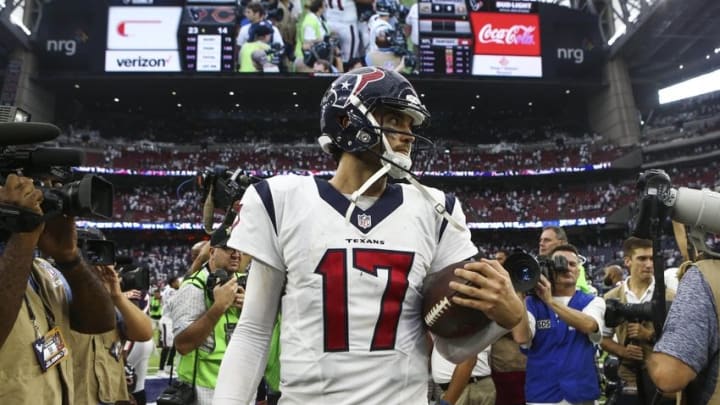 Sep 11, 2016; Houston, TX, USA; Houston Texans quarterback Brock Osweiler (17) walks off the field after the Texans defeated the Chicago Bears 23-14 at NRG Stadium. Mandatory Credit: Troy Taormina-USA TODAY Sports /
The Texans got off to a solid start as they defeated the Chicago Bears 23-14 in the season opener. It was a first game as a Texan for many important players going forward this season, and a promising one at that.
1. Brock Osweiler is going to have a big year
It was an unceremonious start to the game for the prized free agent acquisition, who threw an interception on his first drive. But from there he settled down and finished with 231 yards and 22/35 with two touchdowns and a pick. There are plenty of targets on the outside, so there is no doubt that he should be able to put up some big numbers. The question is, can he also avoid the mistakes that could cost them in close games?
There are certain quarterbacks out there like Matthew Stafford and Matt Ryan who have big numbers at the end of the year but don't get it done when it matters. Will Osweiler shine in the big moments or just be another stat stuffer? The Bears are far from the toughest opponent that the Texans will see this season, so the question of can he perform against the good teams still remains up in the air.
Fortunately, we won't have to wait much longer to see how he does against the better teams as the Texans host the Kansas City Chiefs this week and then go to New England to take on the Patriots in week three, who showed that even without their top players (Tom Brady and Rob Gronkowski), they can still compete with and beat anyone.