Houston Texans Morning Huddle–Watt Cleared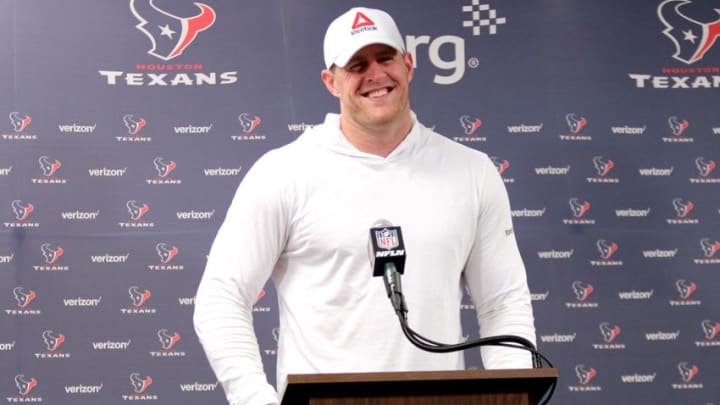 May 31, 2016; Houston, TX, USA. Houston Texans defensive end J.J. Watt (99) smiles as he answers questions from the media following Houston Texans OTA practices at NRG Stadium. Mandatory Credit: Erik Williams-USA TODAY Sports /
Here are your daily Houston Texans stories for Monday:
J.J. Watt expected to play in opener by ESPN
"The Texans activated Watt from the physically unable to perform list Saturday, making him eligible to play in Week 1. The team announced on Sunday that Watt passed his physical."
I have a slightly uneasy feeling about this. On the one hand it is great that Watt is back in good enough shape that he is cleared to play and off the PUP list. On the other, I am somewhat concerned that he might be rushing back and maybe should wait a game or two before being active. I would certainly not play him as many snaps as normal if he is active against the Bears to ease him back after missing all the practice time after surgery.
More from Toro Times
Texans fill out practice squad by Joshua Reese, CBS local
"Hunt was one of the more surprising Texans cuts, he showcased big time playmaking ability during training camp and in preseason games. He was able to score three touchdowns during the preseason, including two in the final game against the Dallas Cowboys."
Akeem Hunt is someone I thought should have made the team. We know that Alfred Blue and Jonathan Grimes don't offer much as a backup running back, so why not give Hunt a shot? Robert Nelson was another guy that I was not surprised made the practice squad.
Four areas in which to improve by Drew Dougherty, Houstontexans.com
"Head coach Bill O'Brien said Friday that he likes the "good chemistry" he's seen from the club so far, as well as the willingness to compete and work hard.But he listed four specific areas in which he wants the Texans to get better. In his words, here are those spots to get better.1. "I think we have to be better on both sides of the ball on third down."2. "I think our return game needs to be better, punt return and kickoff return."3. "I think we need to run the ball better."4. "I think based on the Arizona game, we better be ready to stop the run better than we've done.""
I certainly agree with the last two. Throughout the preseason it looked like neither area had improved demonstrably from last season, and they will be crucial to the success of the team going into 2016.