Mike Florio of Pro Football Talk calls J.J. Watt a "Kardashian"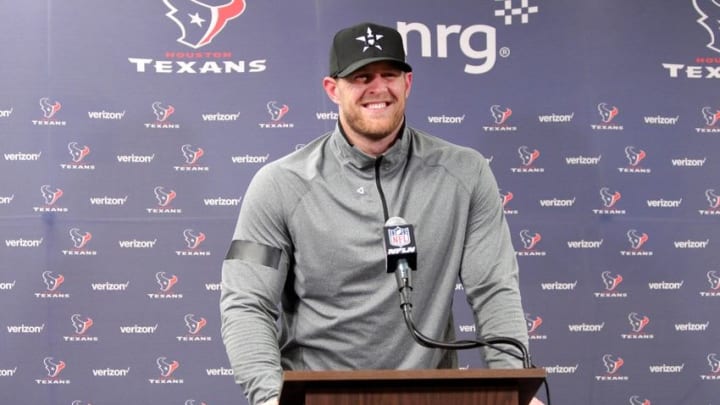 Jun 14, 2016; Houston, TX, USA; Houston Texans defensive end J.J. Watt (99) smiles as he answers question from the media following Houston Texans minicamp at NRG Stadium in Houston, TX. Mandatory Credit: Erik Williams-USA TODAY Sports /
Mike Florio of Pro Football Talk called Houston Texans defensive end J.J. Watt a "Kardashian" after Watt's newest social media picture
Houston Texans defensive end J.J. Watt seems to always have something going on via social media. A couple of seasons ago the three-time NFL Defensive Player of the Year called out Tennessee Titans quarterback Zach Mettenberger for posting a pre-game selfie.
Now someone is calling Watt out for the pictures he's posting.
As Watt was preparing to watch the men's national soccer team, he took to Twitter to show his support of his team. Watt was wearing a U.S. men's jersey covered in autographs, with the comment "Kit is a bit snug, but ready if called upon. #USAvARG."
The following Twitter battle ensued thanks to Mike Florio of NBC Sports Pro Football Talk;
That wasn't the end of it as Florio took to the Dan Patrick Show on Wednesday and didn't back down from his comments.
""There's more than just what J.J. Watt did last night," Florio told Patrick via the Houston Chronicle. "He has a habit of doing things to attract attention to himself and then getting frustrated when the things he does to clearly attract attention to himself … attract attention to himself. I have no problem with someone being a Kardashian but he wants to, in the same breath, say 'why are you looking at me? Here I am wearing a shirt that is 10-sizes too small with autographs all over it, why is anyone reacting to this even though I have sent this picture out to 2 million people who follow me on Twitter and that's been retweeted and discussed, please don't talk about me.'""
It's the second time Watt was called out following a Twitter war as Mettenberger was able to also get in a dig back in on Watt, who told the QB that this wasn't high school when he was sending out the locker room selfie.
Next: Texans bubble watch: G Su'a-Filo
Zach pointed out that Watt was the one wearing a "high-schoolish" jacket while playing at the pro level. It should be interesting to see if this war of words continues much longer.